sociologist, critical and constructivist scholar
leader of Failure Lab (University of Warsaw)
policy-failures.uw.edu.pl
CHESSBOXING PHOTO EXHIBITION
through November-mid. December, 2022
Academy of Underground Arts, Metro Wilanowska, Warsaw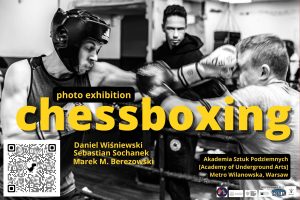 ***
Post-noir and somatic photos create a space for unraveling visually and imaginatively one of the most spectacular hybrid sports of our times: CHESSBOXING.
The photo exhibition is the result of the synergy between three Warsaw established photographers – Daniel Wiśniewski, Sebastian Sochanek, and Marek M. Berezowski – and #ChessboxingWarszawa. It has been originally curated by sociologist Adriana Mica (UW, Failure Lab), in collaboration with the University of Warsaw, the National Centre for Culture, and the Ministry of Culture and National Heritage of the Republic of Poland. 
Being curated in this inspiring urban location by Łukasz Prokop, the Academy of Underground Arts. The chessboxing project is longtime supported by
#AcademiaGorila
martial arts club, and the
Fundacja Inicjatyw Niebanalnych
.
!!! The Daniel Wiśniewski finest photographs have been awarded 1st Place for reportage and Grand Prix for individual photography in the amateur section of the
Polish Sports Photography Competition 2022
.
Don't miss!
Wiśniewski, Sochanek and Berezowski capture the beginnings and progressive growth in popularity of chessboxing in Warsaw, starting with 2020. They allow understanding why this sport became so dynamic not only in Europe, but at global level basically. What constitutes the main drill in chessboxing, as well as its inherent contradictions. 
The photographers untangle the unconventional character, the somatic strength, the rivalry, and the irony of chessboxing. They unravel how chessboxing interacts with what does it mean to be a boxer, a chessplayer, and even a photographer in contemporary Polish society.
Click HERE
---
FAILURE IN SCIENCE: CONTEXT, IGNORANCE AND THE FUTURE OF FAILING, 
December 12-14, 2022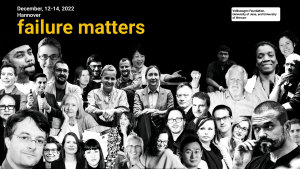 "Failure in Science" is being held as part of the broader Thematic Week "Failure Matters", a funding initiative of the Volkswagen Foundation. It is scheduled for December 12-14, 2022, at the conference center Herrenhausen Palace in Hannover.
The active participants are offered the opportunity to engage with preeminent figures and pioneers in failure and contemporary science studies. They will meet and interact with representatives of research networks on failure now in the making at the global level, combining quantitative and qualitative research methods. The thematic week will include a wide range of themes and will experiment with a variety of meeting formulas, ranging from the traditional panel, to research salon and even the nonconventional F*** up Tales event, where the participants will share and analyze stories of failure in science.
The results of the meeting will be published online and open access.
Thematic blocks
The symposium will cover three general themes and a so-called F*** up Tales event.
– Cultures of failure in science: Dimensions and interferences
– Failure and the overcoming of vulnerabilities and neglect in science
– Science, failure, and the future.
(Click HERE)
WHAT IS FAILURE?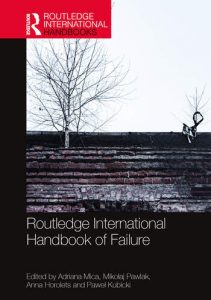 HANDBOOK OF FAILURE
This Handbook examines the study of failure in social sciences, its manifestations in the contemporary world, and the modalities of dealing with it – both in theory and in practice. It draws together a comprehensive approach to failing, and invisible forms of cancelling out and denial of future perspectives.
Underlining critical mechanisms for challenging and reimagining norms of success in contemporary society, it allows readers to understand how contemporary regimes of failure are being formed and institutionalized in relation to policy and economic models, such as neo-liberalism. While capturing the diversity of approaches in framing failure, it assesses the conflations and shifts which have occurred in the study of failure over time.
Intended for scholars who research processes of inequality and invisibility, this Handbook aims to formulate a critical manifesto and activism agenda for contemporary society. Presenting an integrated view about failure the Handbook will be an essential reading for students in sociology, social theory, anthropology, international relations and development research, organization theory, public policy, management studies, queer theory, disability studies, sports and performance research.
RESEARCH
CONFERENCES
Symposia "Failure in Science: Context, Ignorance and the Future of Failing" within Thematic Week: Failure matters – Dimensions of 'Failure' in Science, Volkswagen Foundation (12-14 December 2022, Hannover)
Possible Worlds: Next Emergencies, Global Capabilities, and Potential Inequalities, mini-conference SASE (9-11 July 2022. Amsterdam)
Failure: Limits to Success and Inequality of Falling in Contemporary Society, thematic group Polish Sociological Congress (14-17 September 2022, Warsaw)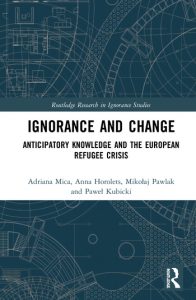 IGNORANCE
Change in the regimes of ignorance is contingent on the pace and conditions in which we elaborate new futures and reformulate existing ones. In the context of the European refugee crisis, this entails that the applicable ignorance has changed to the extent to which the countries we analyzed were able to embark on elaborating new futures, and to stick with these new projections. In the case, however, they abandon these new futures, or the new futures are reified hastily, the regimes of ignorance either change superficially or they embark on a new logic too quickly. (Ignorance and Change, 2020, p. 186)
.
.
.
.
SOCIOLOGY IN THE STREET
author with Zofia Pawlak of a project engaging mechanisms of participatory budgeting (Warsaw) towards reclaiming and reviving the space under Siekierkowski Bridge for recreational, sport, and Street Art purposes – click here
Chessboxing, judo, long distance running
co-initiator of #ChessboxingWarsawa in Academia Gorila Warsaw
leader of curatorial team of photo-exhibition "Chessboxing: From a French Comic Book to the Warsaw Gyms", July-September 2022, Galeria UW